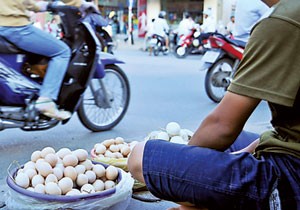 "Garden eggs" sold by a street vendor ( Photo: SGTT)
Following recent media reports that Chinese chicken eggs are being sold as "Vietnamese garden eggs" after being bleached with an acid formula, inspectors from Hanoi's Department of Health seized the eggs being done by family businesses in Dong Anh District.
Inspector Chief Nguyen Viet Cuong said the eggs will be tested for health and safety.
Le Thi Hong Hao, deputy head of the National Institute for Testing Food Safety and Hygiene, said that bleaching substances, whether chloric acid or not, can be absorbed by the egg and affect consumers' health.
Many bleaching agents are poisonous and can make people sick by causing damage to the liver, kidney and brain.

Advertised as eggs produced by hens that roam free in gardens, the white eggs sell for VN3,700 (US$0.21) each, twice as much as factory-farm eggs which are brown in color.