Following a case of forgery unveiled at the Hoai Duc General Hospital in Hanoi by an employee, the Director of the hospital has been suspended for two weeks.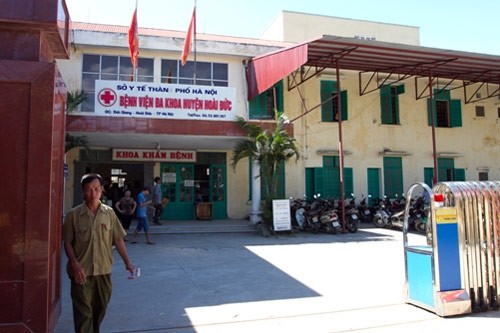 Hoai Duc Hospital
Nguyen Thi Bich Ngoc, Deputy Chairwoman of the People's Committee, signed a decision to suspend Director Nguyen Tri Liem until further investigation.
A day earlier, Vuong Kim Thanh, Head of the Hospital's Diagnostic Department, was also suspended from work. According to the Department of Health in Hanoi, Liem and Thanh were accountable for the one year long duplication of medical and biological test results being issued falsely to unsuspecting patients.
In addition, police also found that hospital personnel had a tie-up with an outside company to reap illegally gotten profits.
The People's Committee have hence handed charge to Nguyen Van Dung, Vice Director of the Health Department in Hanoi, in place of Nguyen Tri Liem.
According to initial investigation, the Department of Health has named six health workers of the Department of Diagnostics as involved in the scandal. The employees named are Nguyen Thi Nhien, Deputy Director; Vuong Thi Kim Thanh, Head of Department of Diagnostics; Nguyen Dong Son, a technician at the Department of Diagnostics; and three employees Vuong Thi Lan, Nguyen Thi Thu Trang and Nguyen Thi Hong Nhung.
The Department of Health has also asked three hospitals, namely, Ha Dong, Dong Da and Saint Paul to support Hoai Duc Hospital by providing medical workers to ensure that treatment and examination process continues undisturbed.
Related article:
Police to investigate faked medical records in Hanoi Hospital