Dang Thi Hoa, deputy chief inspector of the Department of Health in Hanoi, said on July 22 that after the tragic death of a woman patient at the Maria Chinese Clinic, her department has carried out thorough checks of other such clinics in Hanoi and imposed many stringent fines.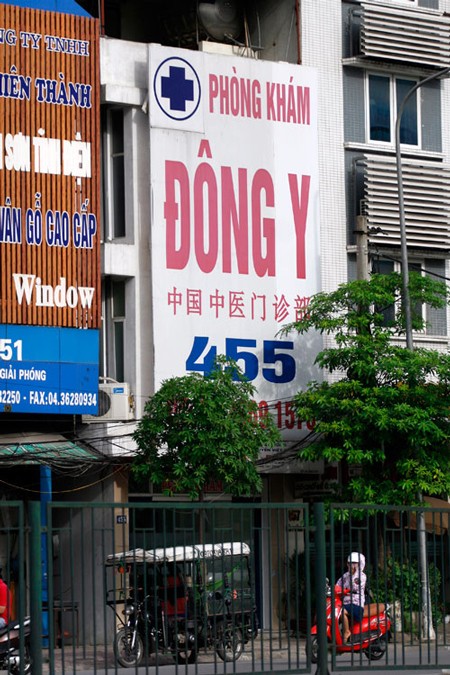 Many Chinese clinics on Giai Phong Street, Hanoi
In Chinese medicine clinics situated on 981 and 455 Giai Phong Street, the inspection team discovered Chinese doctors working without a valid license, which is normally issued by the Department of Health.
Similarly, the clinic on 604 Truong Chinh Street had an unlicensed Chinese doctor examining a patient while monitoring infusion on another patient. The Chinese clinic on 59 Khuong Trung Street was also found to have unlicensed doctors.
The Department of Health in Hanoi has issued a fine of VND40.5 million (approx. US$1,942) on the clinic on Truong Chinh Street as well as revoked its license.
Other clinics mentioned above were also fined VND15-30 million ($719-1,439) and asked to terminate contracts with all Chinese doctors.
Nguyen Van Tien, vice chairman of the National Assembly Commission of Social Affairs, commented that the incident in the Maria Clinic had set off alarm bells in the health sector and that from now there will be more stringent measures to inspect private clinics.
According to Tien, repeated violations, even minor ones, should be fined heavily. Any clinic without a proper license must be forced to temporarily close down until they get a valid permit.
He blamed the death of the woman patient on the Maria Clinic, but said that the Department of Health in Hanoi must also be held accountable for their lack of determination in inspecting and following up on strict action against the clinic.

Related article:
Chinese doctors absconding after death in clinic
Clinic claims no responsibility for death of woman
Chinese clinic opens door despite ban
Authorities ignored violations at Maria Chinese Clinic