All surgical operations at private hospital Tri Duc in Hanoi have been halted after two patients died while under anesthesia in preparation for their surgeries, said Deputy Head of the Department of Health in Hanoi Tran Thi Nhi Ha at a press brief yesterday.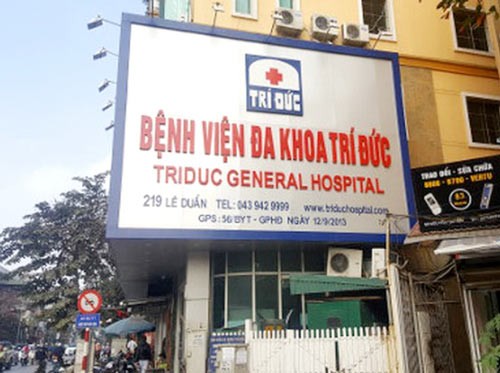 Tri Duc Hospital (Photo: SGGP)
Both patients were injected same drug during anesthesia and they reportedly showed symptoms of anaphylactic such as shortness of breath, low blood pressure and heart stopped 30 seconds after being injected.
The Department of Health was asked to closely liaise with relevant agencies and verify the responsibility of those involved in and issue punishment as per the regulation.
Mrs. Ha said that after the incident, inspection team from the department arrived at the hospital to investigate. The hospital managers reported that the drug which was used to inject the two patients was also used for others but no-one suffered complication. The drug is used widely in hospitals in Hanoi.
Two doctors who were responsible for anesthetizing wrote reports to police. Hospitals produced all receipts of anesthetic which are sealed for further investigation.
Representative from the Department of Health said that the patients may suffer anaphylaxis shock.
The final conclusion will come after medical experts carry out an autopsy in four weeks.

Related article:
Two patients die in Tri Duc Hospital due to anesthesia shock