The Ho Chi Minh City Preventive Health Centre gave out a caution warning on April 11 that the number of children contracting hand, foot and mouth disease has increased steadily this month.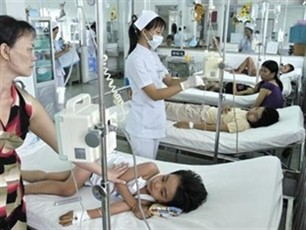 File photo shows children at the Children Hospital No.1.
There are reports of 80 new cases of children being hospitalized every week as compared to 30 cases per week two months ago.
Doctors are asking people to take precautionary measures against the disease and to be extra careful with children.
Since the beginning of the year, three children have died of respiratory complication and serious lung condition.
Doctors said there was no vaccine against the hand, foot and mouth disease and that prevention was the only cure. The best preventive method was to keep the environment clean and monitor hygienic conditions for food and drink.
Doctor Truong Huu Khanh, head of the Infectious Disease Department for Children Hospital No.1 said preventive measures include strengthening awareness, especially in schools. He added that parents of very young children must keep their environment clean and avoid children from catching any infection.