The Ho Chi Minh City Department of Preventive Medicine and Environment reported that 4,000 people have contracted dengue fever this year, 50 percent higher than last year, with outbreaks becoming wider and more severe.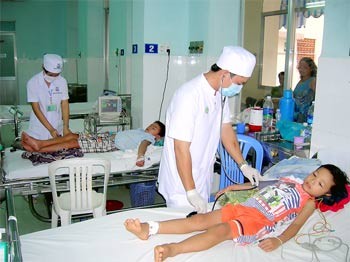 Doctors examine dengue patients at Children's Hospital No.2 in HCM City (Photo: SGGP)
Dr. Le Thi Thanh Thuy of Children's Hospital No.2 said in the last two weeks her hospital has admitted many dengue patients, some seriously ill. 
Dr.Vu Quang Vinh, the hospital's deputy director for general planning, told SGGP there were 311 patients in June. 
Children's Hospital No.1 admits 20-30 cases every day. 
Dr. Le Bich Lien, head of its Dengue Fever Department, fears patients do not get good treatment at the hospital due to a lack of beds: "The 80 beds in the ward can't cope with the number of patients which is always above 100. We had to have two or three children to a bed." 
Dr. Tran Van Ngoc, head of Pediatrics A at the Tropical Diseases Hospital, said his hospital is also getting a large number of adults with dengue. 
Besides districts like Binh Thanh, 8, Binh Tan, and Binh Chanh, the disease has also spread to various wards in Thu Duc District like Binh Chieu, Hiep Binh Phuoc, and Hiep Binh Chanh. 
But Sai Gon Giai Phong newspaper has found that local preventive medical officials have yet to act to contain the outbreak. 
When SGGP called Dr. Nguyen Duc Tho, deputy director of the HCMC Preventive Medicine Center, to inquire about measures needed to contain the outbreak, he refused to speak saying he is not authorized to talk to the media.
Hoang Duc Hanh, deputy director of the Hanoi Health Department, said an emergency meeting was held on July 7 to instruct local medical personnel on measures to contain dengue outbreaks in the capital.

Mr.Hanh told people to keep their surroundings hygiene, use mosquito nets, and not store water in open buckets and pots. At the first symptom of the fever, people should visit a doctor, he said.

This year Hanoi has recorded 510 cases, with most of the victims aged above 15, he added.
Related article:

Outbreaks of dengue fever may become worse later 2009