The Ho Chi Minh City Department of Health has recently announced that 19 cases of high fever have tested negative for the A/H1N1 flu virus. No cases of the flu have yet to be reported in the city.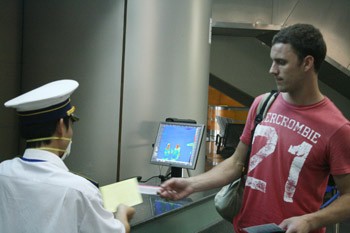 International passengers who enter Vietnam with high temperature are under control. (Photo: VNN)
Dr. Nguyen Van Chau, director of the department, said a four year-old Canadian boy had been quarantined. He was rushed to the Children Hospital No.1 to be tested for the A/H1N1 flu virus on May 11. He was discharged later that afternoon.
On the same day, after visiting Thailand a Vietnamese patient visited the Tropical Diseases Hospital to be tested for the A/H1N1 virus. Results have yet to be reported.

A Vietnamese, returning from Japan, went to the same hospital to be tested for the virus on May 10, but was tested negative.
Many hospitals in Ho Chi Minh City have reported that they have received no cases of the A/H1N1 virus.
In related news, the Hanoi Department of Health gave 100 thermal scanners, which measure passengers' body temperatures, to Noi Bai Airport on May 11. The department also provided 2,000 medical masks to the Noi Bai Airport quarantine center's employees and supplied 16,000 Tamiflu for hospitals in Hanoi.