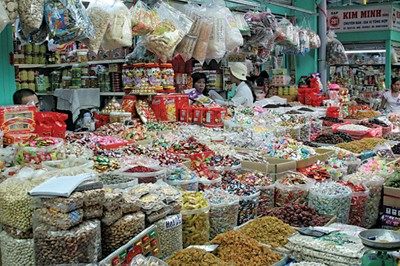 Jams and dried fruits imported from China being sold at Binh Tay Market in HCMC's District 6. Authorities are testing them for lead content. (Photo: SGTT)
Following fears that Chinese jams and dried plums contain lead and eggs are bleached to sell as free-range, the Ho Chi Minh City Department of Health began an investigation October 22.
It ordered the Institute of Hygiene and Public Health, Customs Department, and the Quality Assurance and Testing Center 3 to provide details of importers of jams and dried plums and other fruits from China and the quantity of imports.
In the wake of public concern that Chinese –made jams and dried fruits contain heavy metals like lead that will cause chronic diseases, health officials have been ordered to closely monitor them.
Meantime, a team of health workers has been formed to check  food hygiene and safety. The team along with officials from the Department of Animal Health and Market Management went around city markets to check imported eggs and look for bleached eggs and took samples for tests.