In these days, cases of chickenpox have surged in medical facilities in Ho Chi Minh City and the trend is forecast to rise in the next time.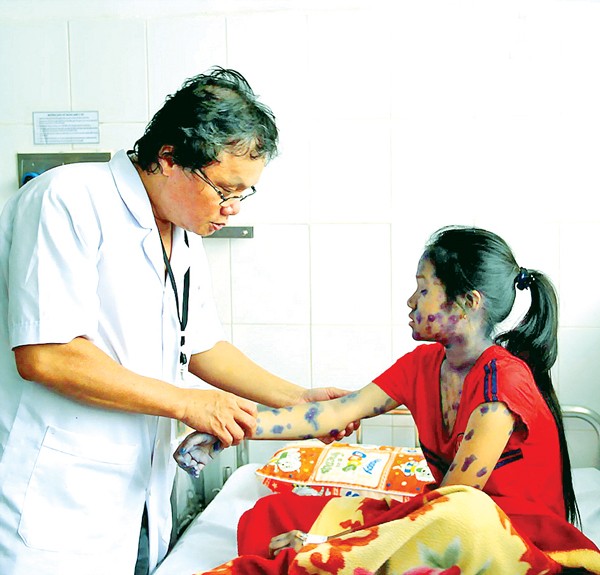 Dr. Truogn Huu Khanh examines a girl with chickenpox (Photo: SGGP)
In the Children Hospital No.1's Infection Ward, since the beginning of the year, inpatients with chickenpox have reported to reach 24 and many of them have suffered serious illness though it is early in the chickenpox season. Head of the Ward Dr. Truong Huu Khanh said that in recent years, the rate of adults who get disease is much more than children.
Before, children in kindergartens and primary schools were usually infected with the disease, now adults in the age of 25 - 30 have chickenpox and then transmit to kids.
In the Children Hospital No.2, cases of chickenpox taken to the hospital continuously skyrocketed after the Tet holiday ( the Lunar New Year), the hospital treated 240 outpatients and six inpatients. Head of Infection Ward Dr. Do Chau Viet explained unpredictable weather resulted in increased cases of chicken pox and complicated development.
Chickenpox develops in Vietnam during transition from spring to summer, usually lasting from February to June. Peak season falls in April and May and widely spread. Accordingly, medical experts forecast without preventative measures, the disease will break out widely in the next time. The Department of Preventive Medicine under the Ministry of Health issued warning of the chickenpox.
Head of the Department of Preventive Medicine Tran Dac Phu said that chickenpox is an acute disease caused by Varicella Zoter virus which causes a blister-like rash. The virus spreads easily from people with chickenpox to others who have never had the disease or been vaccinated.
The virus spreads mainly by touching or breathing in the virus particles that come from chickenpox blisters, and possibly through tiny droplets from infected people that get into the air after they breathe or talk, for example.
A person with chickenpox can spread the disease from 1 to 2 days before they get the rash until all their chickenpox blisters have formed scabs. Chickenpox is usually mild and passes without causing any serious problems, said medical workers, but sometimes complications including skin infections, lung infections, and infections of brain or nerves can occur. Chickenpox can cause deaths on little children, blood cancer kids, or else children will suffer serious encephalitis.
Therefore, parents should absolutely spread any drugs on rash without doctor's prescription to prevent infections.
Dr. Khanh warned that the older people are, the more chance people get the disease seriously.
Deputy Head of the municipal Department of Preventive Medicine Dr. Le Hong Nga said vaccine is the best way to prevent the disease. Women should inject vaccine against chickenpox one month before becoming a mother. People should wash their hands before feeding kids.