As the Zika Virus has developed into a complicated virus called a complicated global virus by health experts, the Ho Chi Minh City's department of Health declared the Zika virus outbreak at the ward-level citywide on October 18.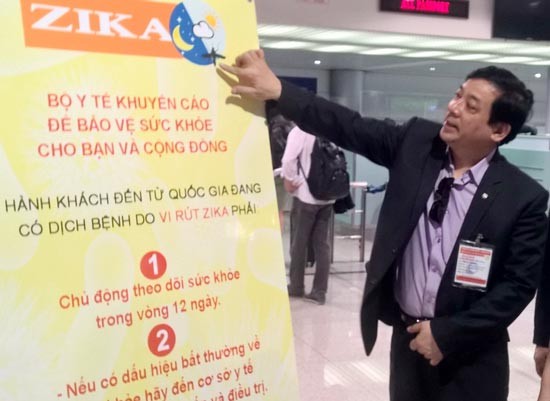 Information board of the Zika virus in Tan Son Nhat Airport (Photo: SGGP)
As per the document sent to the director of the Department of Health and chairpersons of people's committees in districts and wards, the municipal administrators asked them to liaise with related agencies to adopt preventive measures in accordance with the law of prevention of communicative disease.

Additionally, health sectors and local governments must keep an eye on the development of the disease in the areas they are charged of as well as increase clean the environment and kill mosquitoes in households, residential blocks and curb the fresh outbreaks.

Earlier, the health sector had recorded two more women having Zika virus; one in district 2 and one in district 12. The municipal Department of Preventive Medicine in co-ordination with the departments of preventive medicine in two districts carried out survey of epidemiology and sprayed chemical to kill mosquitoes in the areas.
Medical workers also consulted patients and their relatives to prevent transmission among family members. In addition, health workers increased information of dengue and Zika prevention to residents and consulted pregnant in the block.

In district 9, the municipal Department of Health also reported a new case of Zika virus infection. The infected person is a 28 year old housewife having rashes and fever, joint pain and muscle pain.
Following the complicated development of Zika virus, the Department of Health urged its sub-institutes to increase monitoring to early detect fresh cases of infection and information of Zika virus disease to inhabitants citywide.

Director of Department of Preventive Medicine Dr. Nguyen Tri Dung said that for the past time, the city authority has taken 748 samples from 30 major hospitals for testing and the result showed two samples were positive for Zika virus in districts 2 and 9.

Because the development is unpredictable, deputy director of the Department of Health Dr. Nguyen Huu Hung asked medical facilities to increase consultation to pregnant women.

To protect people's health, the Ministry of Health requested to implement preventive measures including increasing activities of the Emergency Operations Center (EOC), actively taking samples for tests to handle outbreaks, launching campaigns to kill mosquitoes to prevent dengue fever and Zika in 63 cities and provinces nationwide, aiming to call for contribution of all sectors and each resident, family in fighting disease to protect their health.
Deputy chairwoman of the municipal People's Committee Nguyen Thi Thu October 18 directly paid visit to district 2 where has two cases of Zika virus infection. Director of the district preventive medicine center Dr. Phan Thanh Phuoc said that last week the district had one more case who is a 20 year old in An Phu Ward. Phuoc fretted about outbreaks of dengue and Zika virus disease because the district has three wards including Binh Loi, An Phu and Binh An to have mosquitoes most.

Ms.Thu expressed her concern because the district 2 has so many construction sites which are ideal places for mosquitoes to develop; accordingly, she ordered district administration to focus on killing mosquitoes.