The Children Hospital No.1 in Ho Chi Minh City announced on Monday that it had succeeded in reviving a 22-month-old child from coma caused by a severe case of hand-foot-mouth disease.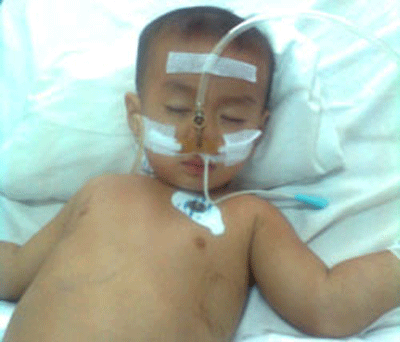 The 22-month-old boy suffering from severe hand-foot-mouth disease, saved by city doctors
The 22-month-old boy, hailing from Dong Thap Province of the   Mekong Delta region, was taken to the hospital while in a comatose state and suffering from high fever and trembling of hands and feet.
His relative said three days ago, the boy got high fever and a non-itchy body rash on his hands and legs, followed with nausea. His parents took him to a private doctor but his condition did not improve.
His parents then rushed him to the Children Hospital No.1 in HCMC where he turned blue and stopped breathing.
Doctors at the hospital did not even feel his pulse but quickly opened his windpipe to push a breathing tube inside to help him breathe and also began to filter his blood non-stop.
All efforts still failed as his condition worsened and the toddler suffered cardiac arrhythmias, then doctors tried to revive him with electric shocks.
 
After a week of administering such treatment, the child's condition improved, his fever went and he stopped using a breathing apparatus.
Doctors at the hospital said this is the first case of a severe hand-foot-mouth infected child with cardiac arrhythmias that has been successful.
Thai doctors also reported a similar successful case in Thailand sometime back.