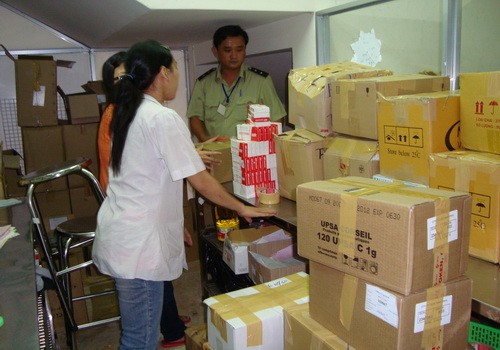 HCM City inspectors check drugs at Minh Phuc Company on Jan. 8, 2009 (Photo: Tuoi tre)
A deputy head of the Ho Chi Minh City Department of Health (DoH) said if drugstore chain My Chau is found guilty of violations like stocking expired and unregistered drugs and food supplements, it would be shut down.
The official, who wished to remain unnamed, said the issue would be reported to the city People's Committee and the Ministry of Health after the Market Management Bureau completes an ongoing inspection.
If the bureau reports that My Chau has breached the law, its license would be revoked, he said.
Dang Van Duc, head of the bureau, said his agency is still checking documents related to drugs and food supplements found at Minh Phuc and Lan Khue pharmacies, sister concerns of My Chau.
It had found hundreds of containers of expired and unregistered drugs and food supplements at all three pharmacies, raising public concern about the functioning of the Department of Health.
It could take 10 more days to complete the inspection and seized unregistered goods, the bureau said.
The DoH will check business registration certificates and documents certifying that seven of My Chau's 18 outlets conform to Good Pharmacy Practices (GPP) standards.
Related article:
Health department under scanner as drugstore chain caught with expired drugs