There has been an outbreak of dengue fever in Ho Chi Minh City despite few rains. Experts said that the disease has arrived earlier than expected.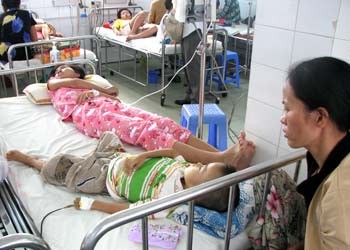 Children suffering dengue fever are hospitalized in Pediatric Hospital No.1
Children between five to ten years old are the most vulnerable to the disease. At the city's Tropical Hospital, 40 newborn babies are receiving treatment for dengue.
Many children have been hospitalized after early rains in April, said Dr. Tran Van Ngoc, head of the Pediatric Division.
The hospital is currently receiving 20-25 children per day.
At the city's Pediatric Hospital No.2, doctors are treating 20 babies from districts 8, Binh Thanh and Thu Duc.
A total of 780 children have been taken to the hospital in the first four months of the year, 57 are serious cases.
The president of the Pasteur Institute, Tran Ngoc Huu, said that the city is entering a period of dengue fever, with an expected increase of patients compared to last year.
Twenty southern provinces have so far recorded 13,098 cases, a year-on-year increase of 28 percent, including 11 deaths. Most patients (around 6,000) come from Ho Chi Minh City, followed by Mekong Delta provinces of Ca Mau, Tien Giang and Soc Trang.
The city's Preventive Health Department believes the outbreak of the disease has not occurred, as they usually disinfect and spray the environment and call for public awareness of environmental hygiene. However, Dr. Nguyen Thanh Hung, deputy director of Pediatric Hospital No.1 believes there has been an increase in patients since May.
Dengue fever is a leading cause of serious illness and death among children in some Asian countries.