"Vaccination, especially the national vaccination and disease prevention program, is very necessary to avoid mortality risk," the director said. "People should actively take part in the program for the future healthy generations and community."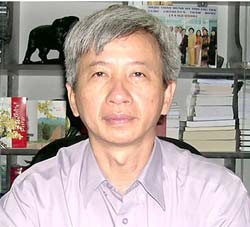 Mr. Nguyen The Dung
SGGP reporter: We must be fair when investigating the accident so as not to affect public benefit of vaccination. How do you feel as a leader of Ho Chi Minh City health system?
Mr. Nguyen The Dung: This is the first time such rare accident happened, maybe the first in the world. But we should tell Priorix vaccination apart from the national program. I, myself, had been an expert on infection before I was appointed Ho Chi Minh City Health Department Director.
When working in the Tropical Hospital, I understood the narrow gap between life and death, witnessing so many grieves because people neglected vaccination.
It is, therefore, necessary to have vaccination to prevent the epidemics which World Health Organization (WHO) has recommended. People shold not disregard their life and the welfare of the future generations.
But people are worried about vaccine quality and safety.
Dr. Adwoa Bentsi-Enchill, a WHO expert, ensured its quality. People should not be so anxious that they don't get it. Big pharmaceutical enterprises all don't want to have any careless mistake, even a smallest one for the sake of their reputation in the competition.
Vaccine quality remains unchanged despite its different packages. Production and preservation are under WHO's strict supervision. We should not be so worried.
Have we identified the cause of the accident?
Health officials and WHO experts have all been trying to check everything. It can be said that we are going to find out the cause when discovering staphylococcus aureus bacterium. If the gene is confirmed to be the same, we can come to a conclusion. 
However, it is not 100% sure in diagnosis because more supplemented reseach could have influence. In addition, we will reorganize the health system and procedure to prevent similar accident.