The Children Hospital No.1 in Ho Chi Minh City said on June 10 that doctors had saved the life of an 11-month-old male baby from the Mekong delta province of Ben Tre from blood plasma leakage, also called dengue shock syndrome.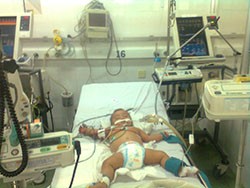 The baby receives intensive treatment at the hospital (Photo: Courtesy of Children Hospital No.1 )
Before, the boy baby had suffered a skin rash and doctors could not measure his pulse rate or blood pressure. Soon blood tests were done which showed that the platelets in his blood were critically low.

Diagnosis confirmed dengue shock syndrome and doctors applied intravenous fluid drip, but the baby continued to have breathing problems with liver failure as well as serious blood coagulation.

Then the baby was put under a ventilator and in intensive care. At present the baby's condition has improved and he is no longer under a ventilator.

Doctors warned that this is peak time for dengue fever and parents should take extra care of children. If children are restless and suffer two days of fever, abdomen pains, nausea, vomiting and mild bleeding such a nose bleed, bleeding gums, or easy bruising, they must be taken to a medical facility immediately.

In related news, the Urinary Tract Division of Cho Ray Hospital in Ho Chi Minh City said it needs more kidneys for transplant surgeries and should make use of kidney from people dying of heart attack.
Statistics of the Health Ministry's Treatment and Examination Department show more than 72,000 people suffering from chronic renal failure in last stages and every year over 8,000 new cases of kidney failure need transplant operations.

Patients have to be put on a kidney machine which is costly and time consuming. Donation of kidney is mainly from relatives or brain dead people but the sources are too few to meet present demand.