Two Ho Chi Minh City pediatric hospitals reported January 14 they have admitted several children with suspected Kawasaki disease that could lead to heart-related complications.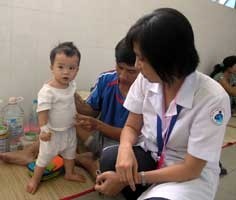 A 14 month old child infected Kawasaki is treated at the city Children Hospital I
The exact cause of the disease is not known despite much research but the children have symptoms like redness and swelling of the lips, tongue, and oral mucous membrane, dark rings around the eyes, and high fever.
It typically affects kids below five.
The cardiac ward at Children Hospital I has up to three children to a bed. Most had been diagnosed with dengue fever by small clinics in their districts.
Doctors at the hospital said until five years ago there were around 20 cases a year. But the disease is in an uptrend, with the number going past 100 last year.
Medical experts said Kawasaki is a dangerous disease that can lead to serious complications of the heart.
The fatality rate is around 1 per cent and half of patients died during two first months.
The disease is named after Dr Tomisaku Kawasaki, the Japanese doctor who first identified it in 1967, Dr. Vu Minh Phuc, head of the cardiac ward at Children Hospital I, said.
Because the cause of the disease remains unknown, doctors treat the symptoms which are similar to those of dengue fever and bronchitis.
They try to reduce inflammation in the child's body and prevent a coronary artery aneurysm from forming.