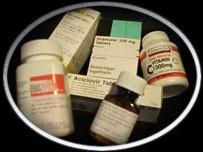 Anti-retroviral (ARV) drugs has been given to over 2,700 HIV/AIDS patients in Ho Chi Minh City.
After one year of implementation of the free HIV/AIDS care and treatment program, around 9,000 patients in Ho Chi Minh City have been treated and over 2,700 of them received anti-retroviral (ARV) drugs.
HIV/AIDS patients joining the program have received voluntary and free services such as friendly counselling and health care.
Doctor Le Truong Giang, Deputy Director of the Ho Chi Minh City Health Department, said the city is currently capable of providing free treatment to only 15% of the patients. Thus, the ARV treatment program's aim to 2007 is to increase the number of patients having free medical treatment to 20,000, among whom are 9,000 having access to ARV.
It is reported that by late 2005, Ho Chi Minh City has up to 60,000 HIV carriers and the number is predicted to increase by 10,000 annually. The number of AIDS patients was also growing rapidly, reaching around 10,000 to the end of 2005.
ARV drugs, which have the potential to dramatically improve the health and extend the lives of people with HIV, were introduced into Viet Nam as early as 1993.