A 25-year-old female in Ho Chi Minh City has tested positive for cholera, the city's Department of Health announced on April 6. It is the first case of the disease in the city this year.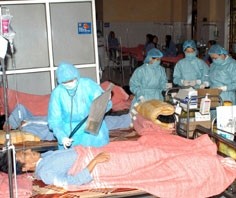 Doctors of Bach Mai Hospital in Hanoi treat diarhea patients. A severe epidemic of acute diarrhea strikes the country last year
The woman, from HCMC's District 8, was taken to the city's Tropical Diseases Hospital on April 3 after suffering from acute diarrhea, fatigue, vomiting and severe dehydration.
The hospital later released an official statement saying that she had tested positive for the Vibrio cholerae bacterium, which primarily affects the small intestine and is spread through contaminated drinking water or infected food.
After three days of treatment, the woman was listed in stable condition. However, her 23-month-old child also began showing symptoms of the disease and has been kept under observation at the hospital.
Health officials say they are concerned that this case could be the start of a new outbreak of the disease across the country.