The Department of Health in Ho Chi Minh City convened an urgent meeting to discuss immediate preventative measures after 5 people were rushed to hospital for blood poisoning caused by brain inflammation and after 36 others tested positive for meningitis bacterium.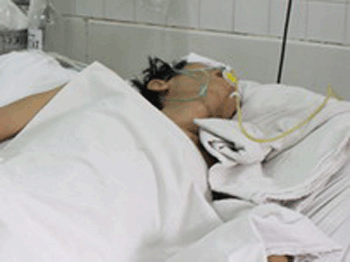 A patient suffering from the fatal brain inflammation lying on a hospital bed in HCMC (Photo: Thanh Nien)
Within just one month, 5 people including 2 toddlers in HCMC and the southern province of Binh Duong were admitted to hospital for treatment of blood poisoning caused by brain inflammation and 36 people for meningitis bacterium.
Both the toddlers, one 29 months old and the other 19 months old, are being treated in the Children Hospital No.2 and the Tropical Disease Hospital in HCMC.

Both suffered from fever and red spots on their bodies. They also showed symptoms of fatigue, irritability and lack of appetite.
Several cases of this unknown dreaded disease have been discovered in different districts in the South, including District 7, Thu Duc and Binh Chanh Districts in HCMC, the southern province of Binh Duong and in the North of Vietnam.
Medical experts believe the disease is contagious as the bacteria can spread from person to person through the respiratory tract and from spit.
Consequently, 36 out of 51 people who have so far come into contact with patients in District 7 and Thu Duc have tested positive. Relatives of affected kids have tested positive also.
Doctors fret that it will spread widely during Tet Lunar New Year, as people swamp to crowded locations like supermarkets, bus stations and entertainment areas.
According to Dr. Tran Phu Manh Sieu, director of the HCMC-based Department of Preventative Medicine, the best way to prevent the disease is to maintain good personal hygiene by washing hands with soap regularly, rinsing the mouth periodically and keeping a clean house and surrounding environment.
People should go a nearby hospital immediately if they suffer a fever, headache, vomiting or a stiff neck to receive timely treatment.
The Department of Health in the city has set up a steering committee to control the disease. It has ordered medical clinics to stock medicines and necessary equipment.
Related sub-divisions must provide medical check-ups for workers in industrial zones and companies as well as list all people in rented houses and request landlords to advise people to visit a hospital if they suffer symptoms of sore throat or fever. Medical workers must disinfect the area around the house of an infected person.