Over 23,202 bottles, 7,156.88 liters of soy sauce products with high levels of 3-MPCD have been withdrawn from the market, Mr. Nguyen Duc An, Chief Inspector of the HCMC Health Department reported yesterday.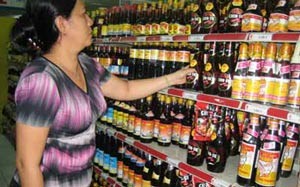 Clean soy sauce products appear in local super markets.
The producers also voluntarily revoked some 146,272 bottles of soy sauce that failed to meet the requirements on food safety and hygiene.

Inspectors from the HCMC Health Department have imposed administrative punishments on 21 soy sauce factories and collected fines worth a total US$15,000. One factory also had their business suspended by the Government due to poor production conditions.

Local soy sauce producers are completing the soy sauce discard plan and are upgrading to new production technologies according to the Health Ministry's standards.