After 10 years of calling for social contributions to healthcare services, Ho Chi Minh City has yielded some achievements. With 28 private large medical centers and thousands of small clinics, the health of city residents has much improved.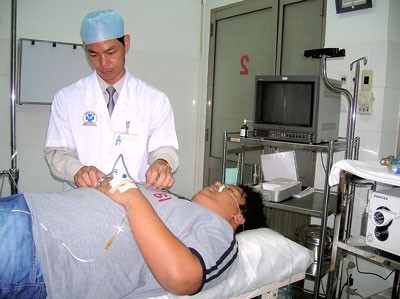 A doctor at Trieu An hospital preparing a patient for surgery (Photo : SGGP)
As soon as the Ministry of Health (MoH) and the city People's Committee called for social contributions to the healthcare sector, Trieu An General Hospital was established in Binh Tan District.
 
After nine years, the hospital has grown to accommodate 350 beds, has state-of-the-art equipment and helps thousands of patients every year.
 
Two Hoan My healthcare centers, built in districts 3 and Tan Binh with over 100 beds each, has specialized fields in internal medicine, surgery, pediatrics, obstetrics, neurology, heart, respiratory, endocrine and digestive orders.
 
The medical facility An Sinh was built in 2006 in and is three/four star hospital, with 18 departments.
 
Private infirmaries have mushroomed in the city, including Vu Anh International five-star hospital, Van Hanh, Sai Gon ITO, FV hospital, Saigon International hospital, Tam Duc Heart Medical Institute and Ngoc Tam hospital. These private hospitals have shared the burden of patients with the public sector.
 
After Decree 43 became operational, public hospitals become self-financing. They have mobilized outside sources to construct better facilities and purchase new equipment.
 
The quality of healthcare has improved and medical workers' incomes have increased.
 
Private and organizations have contributed to buying new facilitates for the People Hospital 115. The result has been a rise in the quality of the hospital's examination and treatment, which has also been less of a burden on the state's budget.
 
According to a report by the city's Department of Health (DoH)'s, nearly 70 percent of public medical centers have modern devices paid for from charitable contributions.
 
Some shortcomings of the health sector have been pointed out. 
 
Deputy Health Minister Nguyen Thi Kim Tien said that the health sector is facing a severe shortage of personnel. 
 
The city needs more than 2,000 medics to serve in public hospitals, with privately owned hospitals also having trouble finding doctors, many of whom are part-time.
 
Calling for social contribution to train people is difficult and many several private education institutes are struggling to train doctors due to slow bureaucratic procedure.
 
The flip side of a coin is that investors are willing to set up universities to train doctors despite these problems.
 
The general director of Trieu An hospital, Dr. Nguyen Hai Nam, and Hoan My Medical Corporation have complained that permission for a new university has been held up for a long time.
 
Relevant agencies have been called on to speed up proceedings to help educational facilitates provide personnel to the health sector, and there by resolving the severe shortage of medics at private and public medical centers.