The Ho Chi Minh City-based Pasteur Institute said it has stopped conducting H1N1 tests from October 1 due to lack of funds and mounting debts.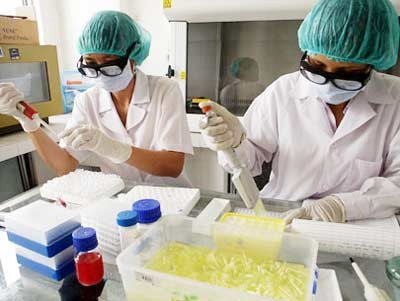 Medics carry out tests at Pasteur Institute. It stops medical testing due to lack of funds and mounting debts
In a document he sent to medical centers September 30 nationwide, Dr. Tran Ngoc Huu, its head, said no firm date has been fixed for reopening since it is waiting for financial assistance from the Ministry of Health (MoH).
The institute owes biological companies more than VND4 billion (US$223,000), he said.
Nguyen Huy Nga, chief of the Preventive Health and Environment Department, said only when the institute clears its debt can it resume purchases.
But he said the institute's closure would not affect the treatment and diagnosis of swine flu since it is only a supervising agency and other hospitals would continue to do tests.
The HCM-based Tropical Diseases Hospital and Pediatrics I and II Hospitals would take over the task of announcing swine-flu test results, he said.