Although the Ministry of Health regulates foodstuffs for children that have labels written in Vietnamese, health agencies neglect to check products for children without Vietnamese labels; most shops in Ho Chi Minh City sell such products that often provide no clear indications of origin and are missing expiration dates.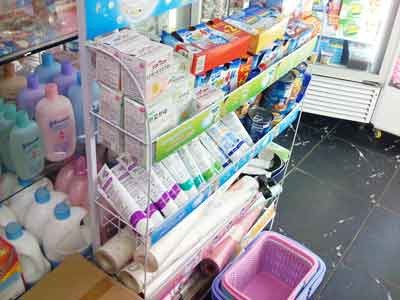 Many items marketed for children lack any indication of origin and have no Vietnamese labels (Photo: SGGP)
A shop on Vo Van Tan Street in District 3 displays various kinds of dairy products, cakes, yogurt and cheese. Responding to a customer's complaint about their undersized baby, the shop assistant immediately recommended Japanese-made Wakodo milk.
The 900-gram product had Japanese and English labels and was without secondary labels listing ingredients, expiration dates, importers or distributors. The shop assistant claimed the product was excellent and arrived in Vietnam as personal belongings to be resold tax-free.
Many items on the shelves of Ho Chi Minh City shops arrive in the country this way and they come without necessary information listing importers, expiration dates, or even ingredients, but shop assistants always pitch them to customers as high-quality items.
Medical workers fretted about rampant rate at which fake milk products are sold in the market, Vietnamese parents apparently preferring foreign-made varieties. Dr. Ta Thi Lan from the city's Nutrition Center said the technology of making fake milk products has been much improved. Three methodologies to make fake milk products include mixing cheap ingredients with high quality ones, imitating the labels of famous manufacturers and deleting expiration dates.
Nutrition experts advised parents to breastfeed infants because mother's milk adequately nourishes children. Research supports the argument that children breastfed grow up more healthily than those reared on formula dairy products.
Experts also warned mothers not to purchase foodstuffs without clear indications of origin, ingredients and test certificate from health agencies.
The flipside of the coin is that an inspector from the HCMC Department of Health admitted that his department has neglected the inspection of foodstuffs marketed for children and dairy products for years.