As the present cold weather is highly conducive for spread of the flu virus, the Department of Preventive Health has asked related institutes to prepare against a new 'swine flu' virus strain that may enter Vietnam.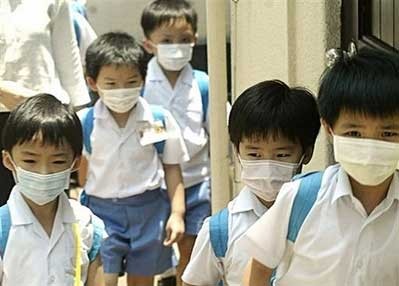 Kids wear face masks to prevent flu (File photo)
The new virus, termed S-OtrH3N2, is a combination of two subtypes of influenza A virus H1N1 from the 2009 worldwide flu outbreak and H3N2, found in pigs, said Dr. Nguyen Van Binh, chief of the Department of Preventive Health.
The US Center for Disease Control and Prevention (CDC) announced some recent cases affected with the new 'swine flu' virus strain.
CDC has reported ten people infected in the US with the virus while in Vietnam there has been an upward trend in the number of cases, though no case has so far been found with the new subtype S-OtrH3N2. 
Since the beginning of the year, Vietnam has reported 759 people infected with A/H1N1 virus including 17 fatalities. The past month reported 25 infectious cases and three fatalities.
Dr. Binh frets that with the existence of so many kinds of influenza virus in the country, it is highly possible that they will combine or change strains to become into new more serious subtypes.
Nguyen Hong Ha, deputy head of the Central Hospital of Tropical Diseases, is concerned that more people will become infected during wet and cold weather. As so far no case of the new virus strain S-OtrH3N2 has been reported, health authorities cannot assess the unforeseen complications.
People have been advised to take flu vaccinations, said to prevent virus infection or at least lower the impact. High risk people including pregnant women, young children and toddlers and those suffering from chronic diseases should visit a medical center as soon as symptoms appear.
Institutes for hygiene and epidemiology and Pasteur institutes nationwide have been asked to keep tight surveillance of epidemic quarantines at border crossings and people coming in from affected nations showing flu symptoms.
The Department of Preventive Health will closely coordinate with the World Health Organization and CDC to detect and monitor the new subtype.