The Department of Preventive Medicine under the Ministry of Health yesterday sent an urgent dispatch to its municipal and provincial sub-departments on strengthening supervision on free massive vaccination campaign.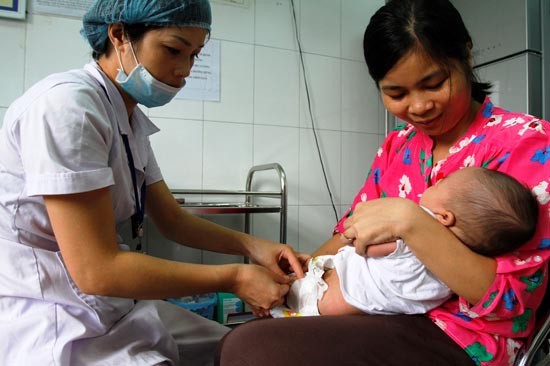 Medical workers have to be trained before administering injection(Photo: SGGP)
The Department of Preventive Medicine issued the urgent dispatch after an incident of injecting distilled water instead of vaccine against measles and rubella at a preschool in the Mekong delta province of Dong Thap's . Medical workers have made mistake while administering the immunization.
The Department of Preventive Medicine ordered the departments of health to supervise whether medical workers follow the vaccination procedures issued by the Ministry of Health.  Only carefully trained medical workers are allowed to administer the injection.
Local health sector should coordinate with schools and authorities to encourage parents to take their children  for vaccination against measles and rubella; accordingly they should issue information of benefits of vaccination and explanation of possible side-effects of immunization. Experienced medical workers should supervise injection procedures as well as help treating cases of bad reactions soon.
Upon the incident in Dong Thap, Professor Tran Dac Phu , head of the Department of Preventive Medicine said no serious consequence was reported. Right after the incident was reported, medical workers from the Pasteur Institute in HCMC arrived in the preschool to examine the cases. Medical workers who made misstate have been tranfered to do other mission.
60 children who were injected with distilled water have been injected with measles and rubella vaccine soon under the supervision of staffs from the Department of Health in Dong Thap Province.
Therefore, the Ministry of Health asked local governments to ensure providing training to all medical workers who must examine children before injection.