Many patients with health insurance cards in Ho Chi Minh City have turned to private hospitals and health centers instead of public hospitals in search of better services.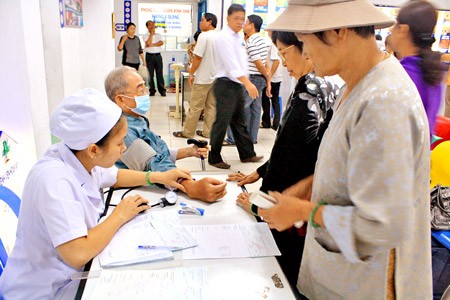 A nurse receives patients with health insurance cards at the Hoan My General Hospital, one of the biggest private hospitals in HCMC (Photo: SGGP)
One year after the adjusted health insurance law took effect, the shift seems to be a general trend, going by reports from private healthcare establishments. The new law's requires patients to pay 5-20 percent of health check and treatment costs.
Observers say that this has eased the overload that public hospitals have for long suffered.
The Phuoc An general medical center, which has six clinics in Phu Nhuan, Binh Tan, Tan Phu, 4, 6, and 10 districts, receives 1,800 people for health checks and treatment every day, 50 percent of them with health insurance cards, double the figure compared to two years ago.
Besides attentive doctors and staff, the center has also equipped itself with new and modern facilities to ensure faster health checks and test results in a move to attract more people with insurance cards.
It has also improved procedures to better serve patients with health insurance cards, including receiving patients outside administrative times on Thursday and Sunday.
The An Sinh private general hospital in Phu Nhuan District has also focused on serving more patients with insurance cards since its inception in 2006.
K. Anh, who has been treated for a kidney ailment at the hospital for the last two years, said she'd suffered from kidney failure for four years now. For the first two years, she was treated at a public hospital in the city. She moved to An Sinh Hospital after they began providing better service to insurance card patients, Anh said.
According to the HCMC Social Insurance Agency, the number of private medical centers and hospitals registering to serve health insurance card holders has risen to 77 from just 23 in 2008.
Half of over 4.2 million people buying health insurance cards have visited private centers and hospitals for health checks and treatment, the agency said.
As the private sector pays more attention to increase their market penetration in terms of serving more health insurance card holders, public hospitals can enjoy an easing of the overload that they constantly labor under.
Some private hospitals have said they are still experiencing some difficulties in getting payment from those with health insurance cards.
For now, however, the private healthcare sector is bound to stick to the strategy of attracting more health insurance card holders because their treatment is provided at market prices, senior personnel at some private hospitals said.