Around 40 million people were covered by health insurance by the end of last year, and this number is expected to climb to over 50 million this year, said Dr. Tong Thi Song Huong, head of the Ministry of Health's Office of Social Insurance.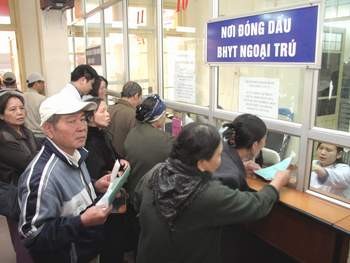 People with health insurance at Saint Paul Hospital in Hanoi (Photo: Health Ministry)
With the passage of the Health Insurance Law, the entire population is expected to be covered by 2014, she said.
But the health insurance fund is penniless after being constantly overdrawn.
"The office is set to raise VND10 trillion (US$564.9 million) this year [by selling policies] and it plans to pay out more than VND13 trillion," she said, adding that while her department has asked the Ministry of Finance to subsidize the payouts, it is unlikely to be approved amidst the global financial crisis.
It would borrow to make up the amount, she said.
Since there are no stipulations on what is covered by health insurance, all claims have to be settled, she said.