Vietnamese Health Minister Nguyen Thi Kim Tien yesterday led an inspection group to observe Zika virus prevention measures at Tan Son Nhat Airport in Ho Chi Minh City as she warned that the country faces the risk of travellers bringing the virus into the country.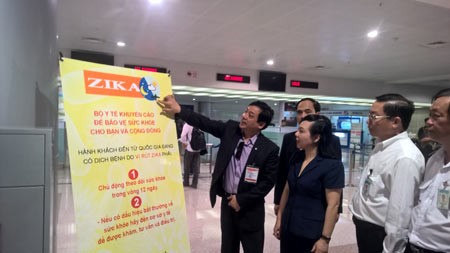 Health Minister Nguyen Thi Kim Tien stands in front of a panel to call for public's awareness of the fatal virus (Photo: SGGP)
Nguyen Van Sau, director of HCMC International Health Quarantine Center said that the airport has measured body temperature of arrivals around the clock.  Mr. Sau said that he had received panels from the Ministry of Health to increase people's awareness of the virus. The center placed warnings, posters in visible entries, he said.
Mr. Sau expected some more posters, leaflets and medical declaration for those passengers from the virus-hit nations.
The virus has been entered Thailand so Vietnam runs a high risk of recording a case of Zika virus infection.
Dr. Phan Trong Lan, head of Pasteur Institute in HCMC, said that the country needs to conduct three steps to early detect the fatal virus including closely supervise passengers through border gates, through facts and supervise the major public parks.
Dr. Lan ensured that the institute has enough devices for testing and experts are able to carry out tests of the virus within 6 hours. .
As public concern of the entry of Zika virus has been raise, Health Minister Kim Tien urged related agencies to issue leaflets and medical declarations to passengers who returned from virus-hit nations.
Additionally, she proposed them to buy gels and oils against mosquitoes to gratis issue to travellers from countries hit by Zika virus. Ms. Tien urged to increase supervision and mosquito prevention. She asked residents to kill mosquitoes and clean places where they lay eggs into effectively.