Health Minister Nguyen Thi Kim Tuyen categorically ruled out the need for Vietnam to announce the hand-foot-mouth disease as an epidemic, at a press conference on Tuesday.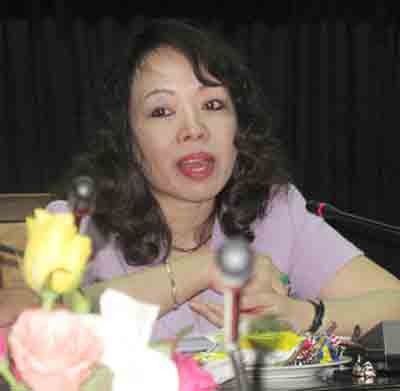 Health Minister Nguyen Thi Kim Tien at the conference
With growing public concern and a rising number of hand-foot-mouth disease patients, the Ministry of Health and relevant agencies convened the press conference to shed more light on the issue.
Tien said that as per the Law on Infectious Disease Prevention, an epidemic is declared only if more than two provinces in the country announce a disease epidemic and only when these provinces are unable to prevent or control the spread of the disease.
Presently, not just Vietnam but also neighboring countries are experiencing the rising spread of HFMD and other diseases such as dengue fever and cholera. However no nation so far has declared a disease epidemic.
In recent years, only the World Health Organization was compelled to declare the swine flu epidemic (H1N1) as it had spread across countries and was prone to high infection mainly through travelers by person to person respiratory tract infection.
Another reason why Vietnam had not declared HFMD as an epidemic was because most of the infected cases were children from the south of the country where the disease was more or less under control now.
Moreover, if the country announces a disease epidemic, all concerned relevant agencies will have to work around the clock.
Adding to this will be the pressure for the entire country to implement extreme preventive measures such as medical and blood sample checks of all passengers at airports and border crossings. This will affect the functioning of the whole country while it is not even necessary to carry out such an action, said Tien.
Nonetheless, the Health Minister affirmed that health authorities will not neglect monitoring the disease at the cost of young lives. The government and all relevant agencies are determined to contain and control the spread of the disease.
Tien added that medical workers will work towards raising public awareness of preventive measures that can be taken by people to contain the spread of the disease.
Besides other factors, climate change and environmental pollution have helped in the spread of the disease to various parts of the country.
Dr. Nguyen Van Binh, head of the Department of Preventive Medicine said that around 2,000 to 5,000 fresh cases were still being administered each week, though in the South the disease was abating but in the North there was still a surge.