The Department of Preventive Medicine under the Ministry of Health yesterday asked southern province of Binh Phuoc to adopt measures against diphtheria as there have been 29 people hospitalized including three dead in past two week because of the disease.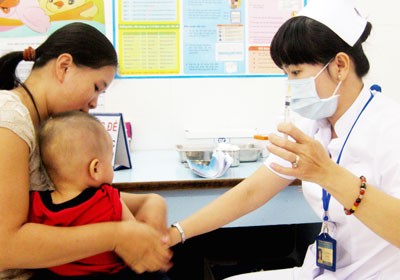 Vaccination is the best way to prevent diphtheria (Photo: SGGP)
All 29 inhabitants living in Dong Phu District were taken to hospitals when they had high fever, tonsils and coughing. Three of them died of the disease, six were discharged and 20 others are still in hospitals for treatment. Pasteur Institute in Ho Chi Minh City has taken samples of patients, their care-takers and those who directly contacted with dead patients for testing.
Head of the Ministry of Health's Department of Preventive Medicine Tran Dac Phu required the local health department to keep a close watch over diphtheria to quickly detect new cases and those who directly contact them so that hospitals quarantined them to curb spreading and infections.
Additionally, local health authority should closely work with HCMC-based Pasteur Institute to carry out vaccination against diphtheria so that they ensure the rate of vaccination must be over 95 percent of population in all communes and mountainous and disadvantaged districts where residents hardly access to medical services.
Also on July 13, Pasteur institute said that it liaised with the Department of Health in Binh Phuoc Province and the local government to disinfect the environment in communes and villages which reported cases of diphtheria. Furthermore, local health authority has isolated patients, their relatives, nurses and doctors in local medical clinics who treated these diphtheria cases.
According to the local health authority, three dead people had symptoms of diphtheria on June 24; they all had sore throat, swollen glands in the neck in the left, slight fever, headache and coughing too much. They bought medicine from private medical clinics yet their condition did not abate. Later, their families took them to big hospitals when their condition was too serious; hence they died.
According to the Department of Preventive Medicine, the disease usually attacks kids yet adults can be infected if their immune system is not good . A type of bacteria called Corynebacterium diphtheria causes diphtheria. The condition is typically spread through person-to-person contact or through contact with objects that have the bacteria on them, such as a cup or used tissue.
A person may also get diphtheria if they're around an infected person who sneeze, cough, or blow their nose. Even if an infected person doesn't show any signs or symptoms of diphtheria, they're still able to transmit the bacterial infection for up to six weeks after the initial infection.
To actively prevent the dangerous disease, the Department of Preventive Medicine advised people to be routinely vaccinated against diphtheria, regularly wash hands with soap; cover their mouth when coughing or sneezing, keeping houses, schools and kindergartens clean and have sunlight. Anyone who have symptoms of diphtheria must be quarantined and rushed to hospitals for timely treatment. Their neighbors must take medication and vaccinate as per scheduled