Controversy over a new type of brain surgery for epileptic patients, being performed at a hospital in the country's central region, is putting pressure on the Ministry of Health (MoH) to make an official statement on the procedure's efficacy.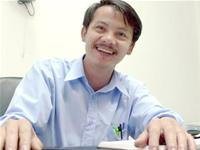 Dr. Pham Ty from the central province of Binh Dinh has carried out surgery on epileptic patients since 2002
In reports to the MoH, Dr. Pham Ty, director of the Binh Dinh General Hospital in the central province of the same name, says he has performed the brain surgery on a total of 55 epileptic patients since 2002.
The France-trained doctor says 24 of the cases have experienced complete remission of seizures, accounting for 43.6 percent of the total; 21 continue to experience mild fits during sleep (30.9 percent); seven have seen their seizures decrease by 50 percent, and three have died.
Dr. Ty, arrived with colleagues in Ho Chi Minh City October 24 to check on epilepsy patients who had recently undergone the surgery at Binh Dinh hospital.
Lam Van Ve, the father of 32-year-old patient Lam Van Viet from the southern province of Vung Tau, told the surgeon that since the operation, his son has suffered fewer seizures.
Viet, who was healthy throughout his youth, saw his world turned upside down after he contracted Japanese encephalitis, a viral disease spread by infected mosquitoes that can affect the central nervous system and cause severe complications including seizures.
Viet's family took him to several hospitals including some in China, but he continued to suffer convulsions for long periods at a time.
As a last resort, his relatives took him to the Binh Dinh Hospital on July 28. Miraculously, says Viet, his health appeared to improve almost immediately after the operation with far fewer seizures than before.
In a similar case, Ms. Nguyen Thi Anh from HCMC's District Binh Chanh, said her 39-year-old son Tran Ngoc Tam had suffered from recurrent seizures and taken anti-epileptic drugs for years with no improvement.
Her sister in the US was filing paperwork to bring Tam overseas for treatment when by chance, she saw an article about Dr. Ty and the new surgery in a newspaper.
Tam's family says that following the operation, he has shown good results, shaking hands and being able to speak with people.
Another elderly patient, Ms. Phan Thi Bach Yen, was told by Vietnamese doctors she could not be helped. Appealing to French and American clinics, she was also told they could do nothing to help her. 
Persevering, she sought out the services of Dr. Ty and underwent brain surgery on June 26. Ms. Yen says that in addition to gaining around 6 kilograms, her seizures now last only 1-2 seconds and her memory has improved significantly
Dr. Ty told Sai Gon Giai Phong that Vietnam has a high rate of epilepsy. The mortality rate of the disease is 10-30 percent with another 3 percent of deaths due to adverse reactions to anti-seizure medications.
The success rate of brain surgeries at Binh Dinh Hospital is 74.5 percent, says Dr. Ty, equal to international rates.
The surgery, which is also performed in other countries, has been contentious in Vietnam as the Health Ministry has not officially approved the procedure.
Meanwhile, some patients who paid out-of-pocket for the operation, say they are not happy with the results.