The Ministry of Health has confirmed the fifth death from swine flu, that of a nine-year-old boy in Long Khanh town, Dong Nai Province, on September 9.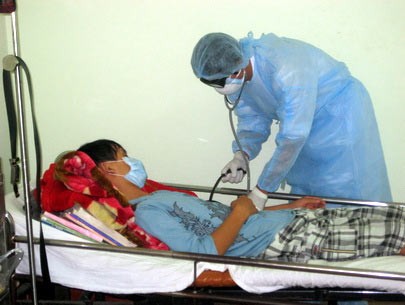 A swine-flu patient receives treatment at the General Hospital of Quang Nghai Province (Photo: Tuoi Tre)
He had a fever since August 29 and was admitted to a hospital in Binh Thuan Province on September 2.
 
A day later, the boy was transferred to the Dong Nai Children's Hospital with high fever.
 
Doctors there discovered he had pneumonia and symptoms of A/H1N1 and treated him with Tamiflu.
 
On September 5 tests by Ho Chi Minh City's Pasteur Institute showed he was positive for swine flu. 
The other four deaths have been in Ho Chi Minh City (three) and the south central province of Khanh Hoa.

A review of the fatalities show that they were all caused by complications arising from diabetes or hypertension, a treatment sub-committee set up to monitor the epidemic reported.
It also noted that treatment is ineffective when patients are hospitalized late, and stressed the importance of early detection.
Deputy Minister of Health Trinh Quan Huan ordered relevant agencies to continue investigating the deaths to better inform diagnosis and treatment.
Dr Nguyen Van Kinh of the Institute of Contagious and Tropical Diseases in HCMC said his institute has acquired a good number of testing materials.
He was responding to public worries about a possible shortage at a time when the epidemic is continuing to spread.
Vietnam is being supplied by the World Health Organization (WHO).
 
There are fears of a possible global shortage of testing materials if the epidemic spreads worldwide.
WHO has allayed these concerns saying this is unlikely to occur.
As winter approaches in Vietnam — providing ideal conditions for the virus to develop — preventive medicine institutes are conducting research into quicker tests, which may bring higher efficiency at lower costs than the current Polymerase Chain Reaction, or PCR, test.
In Vietnam, an additional 110 cases were confirmed on September 9, taking the tally to 4,060.
Three-fourths of the cases have been discharged from hospital while the rest are under quarantine and receiving medical treatment.
All patients are reported to be in stable condition.