The Ministry of Health August 6 convened an online meeting on disease prevention with representatives from health departments nationwide.
Currently, medical experts have warned of outbreaks of dengue fever, acute diarrhea, Japanese encephalitis and Ebola. Dr. Tran Dac Phu who heads the Preventive Medicine Department said that the country recorded 301,570 cases of acute diarrhea including three deaths from the beginning of the year; one in the northern province of Thanh Hoa and two in Ho Chi Minh City's Binh Chanh District.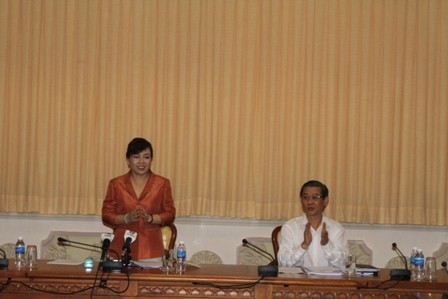 Health Minister Nguyen Thi Kim Tiến works with leaders of HCMC on Aug 5 on how to prevent diseases (Photo: webside Bo Y te )
Moreover, two outbreaks of acute diarrhea in Communes Le Minh Xuan and Vinh Loc A infected 14 people, he added.
Dr. Phu stressed that acute diarrhea has highest cases among infectious diseases in the country with around 500,000 cases every year. Medical experts point out that rainy weather, low vaccination and poor environment sanitation cause acute diarrhea in Vietnam.
A study conducted by the Pasteur Institute in HCMC said that polluted water supply was the cause of the diarrhea disease in Binh Chanh District as tests showed E. coli virus is present in water samples.
Furthermore, tests conducted by the Pasteur Institute showed the bacterium Vibrio cholerae 01 virus was the major cause of cholera in the country.
While the risk of acute diarrhea outbreaks has been being high, Health Minister Nguyen Thi Kim Tiến sent a dispatch to provincial and municipal people's committees, asking to tighten control over water resource.
The health minister also asked healthcare agencies liaising with local governments to supervise and test water supply sources, issue warning to local people as well as apply preventive measures.
Though Vietnam has not recorded any cases of the disease caused by Ebola virus, the health sector is keeping a close eye on it. Nguyen Thi Phuc from the World Health Organization said the disease was transmitting fast.
Vietnamese travelling or studying in affected regions or residents from such regions can transmit the virus when they come to Vietnam, she added.
The National Institute of Hygiene and Epidemiology said that there has been no medication and vaccine for the disease caused by Ebola virus; accordingly, mortality rate is over 55 percent, as per WHO's warning.
To prevent the disease, the health minister asked medical clinics and border gate managers to work together. She threatened to impose penalty on any hospital which does not follow the ministry's guidelines.