The Ministry of Health and People's Committee in the southern province of Binh Duong yesterday launched a campaign to kill mosquito larva in An Phu Commune in Thuan An Town of the provine to raise residents' awareness and role of related agencies in combating dengue fever epidemic.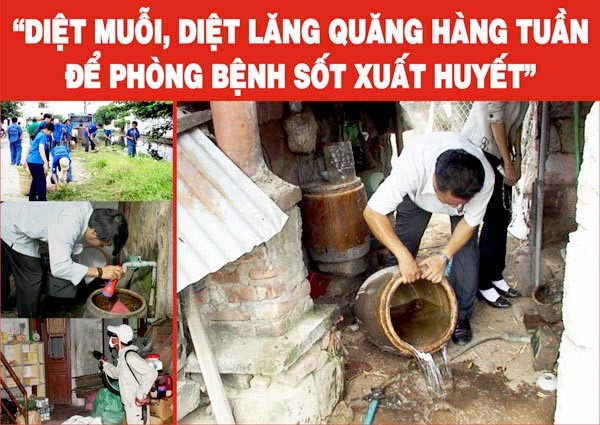 (Photo: SGGP)
Speaking at the launch ceremony of mosquito killing campaign, Health Minister Nguyen Thi Kim Tien pointed out that all cities and provinces nationwide have outbreaks of the disease and most serious outbreaks have occured in South and the Central provinces have.
The disease develops in the rainy season from April to November.

Thanks to concerted efforts of all related agencies and residents, the infections and mortality rate reduced for years; for instance, last year has less number of cases  during past 10 years.
However, achievement in combating the disease is not stable as expected; hence, it is likely to have outbreaks somewhere if local administrations ad related agencies are not determined in fighting the disease.

This year, dengue fever patient count escalated sharply as 2015 is the peak of a four-or-five-year cycle of dengue fever. Related agencies must spray chemicals to kill mosquito and larva.

In the meeting, the Ministry called for the participation of the government, unions and sectors and organizations in increasing information of the disease to each resident who have joined hand to prevent the disease by killing mosquito larva - simplest thing to do.

The Ministry also proposed health departments in cities and provinces to implement the mosquito-killing campaign to raise inhabitants' awareness of the disease as well as improve roles and participation of local governments, agencies and unions in preventing the epidemic.

Municipal and provincial people's committees must be determined in carrying out synchronous measures against the disease with the focus on killing mosquito and its larva, the minister said, adding this activity should be conducted every week to make it one of regular activities of people.

After the launching ceremony, health staffs from the Ministry, Pasteur Institute in HCMC and Binh Duong Province went to each household in a residential block in An Phu Commune to directly instruct people clean water containers and encourage people to take part in the campaign.

On the same day, the Ministry convened a meeting on enhancing prevention of dengue fever at Pasteur Institute in Ho Chi Minh City. The conference discussed major solutions to reduce cases of infections and deaths because of dengue fever and proposed a proper resolution for local governments to follow.