The Health Ministry's Food Hygiene and Safety Department March 26 ordered its units nationwide to quickly seize and destroy a new type of lollipop being sold in Vietnam without origin and containing toxic substances.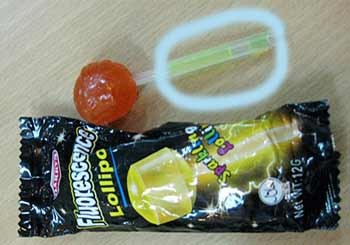 A fluorescent lollipop containing Polyaromatic hydrocarbon (PAH) in the stick, which makes it glow. The substance is highly toxic and can cause cancer and gene mutation. (Photo: SGGP)
The packaging of the "Fluorescent lollipop" candy contains neither the name nor address of the manufacturer, and does not list an expiry date.
The edible portion of the lollipop is attached to a stick that glows, heightening its appeal to children.
Test results have showed that the sticks contain Phtalate and Polyaromatic hydrocarbon (PAH), where the former acts as a solvent for the latter, said Dr. Le Thi Hong Hao, deputy head of the National Institute for Testing Food Hygiene and Safety under the Health Ministry.
The combination of the two chemicals leads to an oxygenated reaction, creating fluorescent illumination in the stick, said Ms. Hao.
PAH is an extremely toxic chemical, usually used only for industrial purposes like diluting paint. It can cause cancer or gene mutation in humans, Ms. Hao added.
"Although the toxic substance is confined to the stick, children can put the stick in their mouths and the poison can leak out and enter their bodies," head of the Department of Food Hygiene and Safety, Nguyen Cong Khan, warned.
The candy has been being sold in front of schools in many provinces and cities across the country, including Hanoi, Da Nang and Ho Chi Minh City, the department said.

Some traders said the candy, selling for VND2,000 per lollipop, entered the country via the northern border.
In Da Nang, head of the city Sub-department of Food Hygiene and Safety, Nguyen Minh Tien, said yesterday he ordered his force to make inspections across the city, especially around schools, and seize any if discovered. 
The same day, the HCMC Health Department sent official letters to all relevant agencies to inform them of the seizure and destruction of the candy.
The HCMC Steering Board for Food Hygiene and Safety also asked the Department of Industry and Trade, the Market Department Sub-department, and district People's Committees to seize and destroy any of the candy found.
The Health Department said it would submit a report on the investigation to the Health Ministry by April 1, after combining all reports from other relevant agencies.
Meanwhile, the HCMC Department of Education and Training has told schools to instruct students and their parents not to buy or eat the lollipops.