The health ministry has called for increased efforts to provide effective and safe vaccines under the National Expanded Program on Immunisation (EPI) to all children in the country.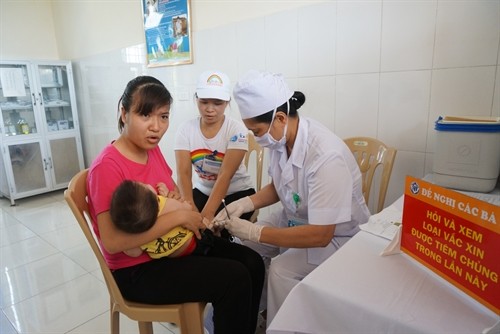 A baby gets Quinvaxem vaccine under the the National Expanded Programme on Immunisation (EPI) in Quảng Bình Commune Health Clinic, Quảng Xương District, Thanh Hóa Province. – VNS/Photo Thanh Hải
The announcement was made at a meeting to celebrate Immunisation Week 2016 in Thanh Hóa Province on Saturday.
The annual week, entitled "Immunisation is everyone's job, protect your community. Immunise all throughout life", is one of the communication programs to strengthen awareness of community on the importance of vaccinations and to mobilise local and international support and investment for EPI in Việt Nam.
"Vaccinations are not only the right and responsibility of each individual, but also of the entire community. Parents and child caregivers should take children to get vaccines under the EPI", said Deputy Minister of Health Nguyễn Thanh Long, speaking at the event.
Long noted that the country still faced problems in carrying out the immunisation programme in mountainous, remote, border and island areas. From five to ten per cent of the country's districts, mainly remote, mountainous and difficult localities, have not reached the targeted vaccination rates among their populations.
Officials noted that between three to five per cent of children under-12 months have not received all vaccinations, as called for under the EPI. Also, about 10 per cent of 18­-month-old children had not received their repeated doses of measles, diphtheria, pertussis, tetanus vaccines, according to Long.
"Immunisation is one of the most powerful tools to save millions of lives. We have made enormous progress, but still, today, nearly one in five children worldwide are missing routine immunisations," said Sergey Diorditsa of the World Health Organisation (WHO) Western Pacific Regional Office.
"This is the second year of the 'Close the Gap' campaign – aimed at ensuring we leave no one behind in life saving immunisations. This is a call for everyone's action to protect their communities through vaccinations," said Diorditsa.
"In order to reach the goals of the Decade of Vaccines, we will have to develop innovative ways to reach the unreached and remove barriers to immunisation. In Việt Nam, this means reaching hard to find populations, such as the transient community, and working to address vaccine safety concerns and the hesitancy to be vaccinated," said Diorditsa.
He also highlighted achievements that Việt Nam has reported due to the national immunisation programme over the past 30 years.
Health ministry statistics note that the EPI has saved an estimated 42,000 lives and prevented more than 6.7 million childhood diseases, such as polio, tetanus, diphtheria, measles and pertussis, due to the high number of children receiving immunisations.
Additionally, over the last five years, the immunisation rate for Hepatitis B vaccinations among new born babies has increased from 21 per cent to 69.8 per cent. These achievements are due to tireless efforts of front line health workers and the strong commitment by the government, according to the health ministry.