The Ministry of Health began testing samples of a Korean-made Hepatitis B vaccine for safety and tolerance yesterday.

The vaccine was granted by the United Nations Children's Fund (UNICEF) to alleviate the shortage of Hepatitis B vaccine in Viet Nam. A Swiss pharmaceutical company provided the test batches.

The results should be available a month from now. If they are satisfactory, the ministry will authorize the vaccine's use in Viet Nam.

On the same day, the National Institute of Drug Quality Control announced the results of testing another Korean-made vaccine, this one suspected of causing the deaths of newborn babies in Ho Chi Minh City and Ha Tinh, Thanh Hoa and Son La provinces.

Nguyen Van Binh, deputy director of the Preventive Medicine Department, said the tests showed the vaccine "met quality demand".

Even so, the Health Ministry is waiting to hear from the World Health Organization, which sent samples of the vaccine to France for testing.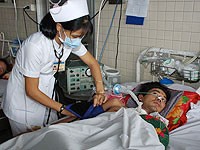 Tiet Duy Hieu becomes paralyzed after receiving an injection of vaccine Rabivax II
In related news, Deputy Health Minister Cao Minh Quang has announced that Viet Nam will stop using the rabies vaccine Fuenzalida (Rabivax II) produced by Vaccine and Biomedical Product Company No. 1 by the end of 2008.

The decision comes in the wake of a warning about Rabivax II from the World Health Organization and the hospitalization of a Ho Chi Minh City resident who became paralyzed after receiving injections of the vaccine.

The ministry decided to wait until next year before phasing out the use of Rabivax II because a suitable alternative vaccine is difficult to find.

In the meantime, the ministry will ask the manufacturer to import the vaccine's ingredients only and produce the final product here so that more people can afford it.
Related article:
1.3 Million Hepatitis B Vaccine Doses Granted to Viet Nam