Health Ministry yesterday asked its sub-departments nationwide to strengthen reactive prevention of whooping cough to curb the wide spread.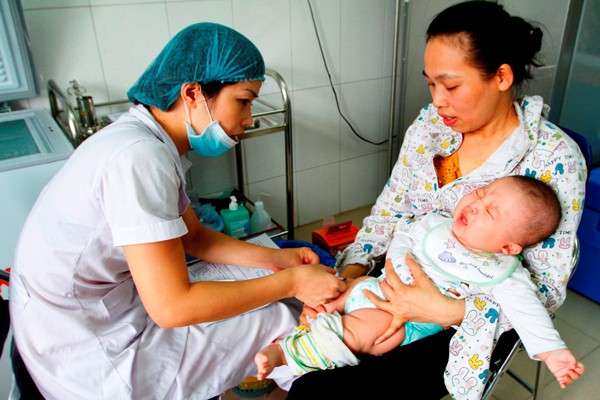 Medical experts advised parents to take their kids to infirmaries for a vaccine shot because vaccination is needed to prevent pertussis (Photo: SGGP)
In an urgent dispatch to chairpersons of health departments the ministry urged local health authorities to carry out thorough vaccination on children including informing parents of vaccination schedule.

The vaccination rate must reach 95 percent, all kids must be immunized and supplement vaccination must be held next month for those who have not been injected the vaccine, the depatch said.

Local health sector must take initiative in testing and detecting infection cases to isolate to prevent the spread. Additionally, local administrators must take a precaution of implementing hygienic activities in educational facilities and increasing information of personal hygiene.

The Ministry pointed out that in early 2017, the disease is on upward trend with complicated development due to cold weather with high moist; accordingly, patients with breathing problems including those suffering pertussis surged. Worse, most infection cases are 2-3 month neonates in the northern mountainous who have not been vaccinated.

The Hanoi-based National Children Hospital admitted more children who suffer serious complications due to pertussis.

Hospital Deputy Director Dr. Tran Minh Dien said that in three first months, the hospital admitted over 40 pertussis kids including five of hem succumbed to the disease meanwhile it was 12 cases last year in the same period. By the hospital's statistic, up to 50 percent of kids with pertussis is below three months old and most of them have been unvaccinated.

Medical experts advised parents to take their kids to infirmaries soon aftet kids experience cough especially one to three month old neonates.