The Ministry of Health yesterday sent a document to chairpersons of local people committees, asking to have measures against dengue fever amid the spreading of dengue fever infection cases.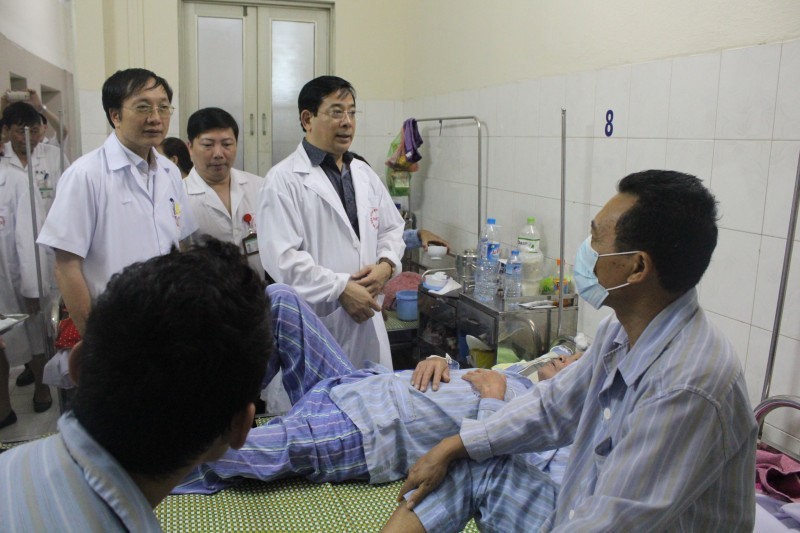 Leaders of the Department of Medical Examination and Treatment visit dengue fever patients in a hospital in Hanoi (Source: Department of Medical Examination and Treatment)
Dengue fever is spreading across the country with 39,000 cases reported in 51 cities and provinces nationwide, including 25 deaths, an increase of 7 cases compared to the whole year 2014.
Currently, infection cases are drastically increasing in the southern provinces, Hanoi and some northern provinces.
 
Accordingly, the Ministry urged local administrations to enhance environment cleaning up twice a week to kill mosquitoes and its larva in "hot spots" of dengue fever and once a month in other places. 
The Ministry also urged local departments of health to keep a close eye on the disease and timely supervision of new outbreaks as well as frequently spray chemicals to kill mosquitoes.
 
Medical facilities must provide timely treatment to patients to minimize number of deaths.
 
To reduce mortality rate, the Department of Medical Examination and Treatment under the Ministry of Health issued an urgent document that warns people not to treat themselves at home but go to nearby medical facilities when they experience symptoms of dengue fever such as fever in three days, pain in muscles and belly, vomiting.