At the start of the new academic term nationwide, the Department of Preventive Medicine under the Ministry of Health on August 31 ordered local departments to enhance supervision and prevention of hand-foot-mouth disease.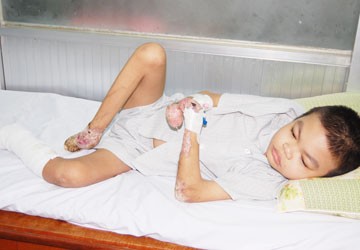 18 year old boy suffers from Vohwinkel syndrome; consequently, he can lose his limbs due to gangrene
According to the Department of Preventive Medicine, since the beginning of the year, 37,788 cases of hand-foot-mouth have been recorded in nine provinces and cities, including 13 fatalities.
In Ho Chi Minh City one case of death was reported.  The City has strengthened supervision and preventive tasks in schools.

In related news, a HCMC resident is suffering from a rare syndrome. Nguyen Hoang Gia B, 18, from Thu Duc District was transferred from Cho Ray Hospital to the Dermatology Hospital for treatment of Vohwinkel syndrome on August 31.

Earlier he was hospitalized in Cho Ray Hospital as thick and honeycomb-like calluses appeared on his palms and soles and his limbs were lost due to gangrene. The Science Council of Cho Ray Hospital diagnosed the boy with Vohwinkel syndrome, which is a rare disorder and caused by gene mutation.

In the classic form, Vohwinkel syndrome affects individuals in infancy or early childhood. Affected children typically have distinctive starfish-shaped patches of thick skin on the top of their fingers and toes or on the knees.

Within a few years they develop tight bands of abnormal fibrous tissue around their fingers and toes (pseudoainhum); the bands may cut off blood circulation and result in amputation. People with the classic form of the disorder also have hearing loss. 

Dr. Thanh Thanh from Cho Ray Hospital said affected patients should have timely treatment or they will lose all limbs. The condition is inherited and about 30 cases have been reported in medical literature.

In related news, Vietnam can reach a population of 89.57 million this year, said the Ministry of Health at a meeting to review medical missions during the last six months of the year.

As per the Ministry's report, family planning has achieved the set target. It is estimated that Vietnam will have population of 89.57 million people in 2013 and 91.3 million by 2015. There is a decline in the country's birth rate. In 2009, a Vietnamese woman had 2.03 children on an average yet the figure dropped to 2.02 in 2013.

Couples in childbearing age deploy the contraceptive method and have contributed to drop in birth rate. Moreover, when the birth rate is lower and when the traditional concept of favoring men over women still prevails, women are more likely to give birth to boys than to girls, causing the existing sex imbalance to become more serious with the sex ratio in Vietnam in 2013 being 112.6 : 100.