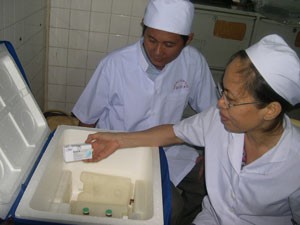 Medical workers verify a vaccine box before using it for children in the District 5 Medical Center (Photo: N.T)
15 members of Health Ministry's health team have agreed on the direction of investigation into the cause of the vaccination accident: the possible contamination.
Experts thus will focus on any traces of virus or abnormal elements in vaccine.
Health team will conduct some experiments of vaccine left in the same lot which is being sealed. Some vaccine doses will be left outside (contrary to preservation requirements); others will be tested to find out toxin; the rest and some unsafe syringes and needles will be used for experiment injection on mice to find out toxic affects on mice.
Mr Nguyen The Dung, Director of Ho Chi Minh Health Department, said that health system will have a close coordination with WHO experts and Health Ministry's health team to come to conclusion on the accident cause as soon as possible.

Health system will thoroughly deal with the problem if health staff were at fault. However, he emphasized that people should feel safe to take their children to health units for free injection in NOIP.

On the same day, in the meeting of the national steering board of preventing flu on human in Ha Noi, Deputy Health Minister Trinh Quan Huan said that the ministry has managed to collect vaccine tubes, lot and syringes used in district 5 health unit.

Health Ministry will test injection process. The ministry will hold a training course on injection process. The ministry also advises parents not to have their children injected during the suspension period.

Deputy Minister added that vaccine importing regulations are strict but it is quite difficult to carry out the check of every lot. The check has therefore been conducted only when there is some suspicion on the lot.

The reason is that Viet Nam has only one vaccine quality control agency, the National Institute for Drug Quality Control. Many imported vaccines to Viet Nam are checked by foreign laboratories.