At a meeting of the National Board for Human Influenza Control on August 12, health officials expressed fears about the spread of the swine flu pandemic among the general population after a group of teachers and students from Ho Chi Minh City contracted it while on the way to Lao Cai for a tour.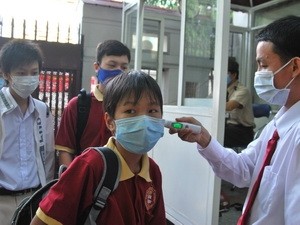 Teachers check students' temperatures at the Asia International Secondary school in Ho Chi Minh City ( Photo; VNA)
When the 185 teachers and students from the Saigon College of Art Culture and Tourism arrived in the popular tourist haunt of Sa Pa in the northern mountainous province of Lao Cai on August 8, 11 had fever and the province's Department of Health conducted tests.
On the 10th, 10 more people were suspected of contracting the virus.  All 21 were isolated in the General Hospital where five of them tested positive.
When the group arrived in Hanoi later on the 10th, two of them were quarantined at the National Institute of Infectious and Tropical Diseases after they were discovered to have the disease.
The remaining 160 remained under observation at the Farmers Association's school.
According to Dr. Nguyen Tran Hien, director of the Central Institute for Hygiene and Epidemiology, said the group possibly contracted the disease on the way to Sa Pa.
Dr. Nguyen Van Kinh of the National Institute of Infectious and Tropical Diseases concurred saying an increasing number of people who get treatment at his institute do not know how they got it.
A further 64 people tested positive for the A (H1N1) flu on August 12, bringing the total number of confirmed cases in Vietnam to 1,275, the Ministry of Health (MoH) informed delegates at the meeting.
Of them, 916 patients have been discharged from hospitals while two have died.
The director of the Vaccine and Bio-products Company No.1 Nguyen Thu Van said Vietnam can produce a vaccine for the flu by as early as the end of 2010.
Informed that the Preventive Health Center demands a payment to disinfect offices, the Ho Chi Minh City Department of Health said the center would do it free only for places where there have been infections and school.