The Ho Chi Minh City Department of Health April 13 confirmed yet another case of cholera, raising the number of people with the illness in the city to five.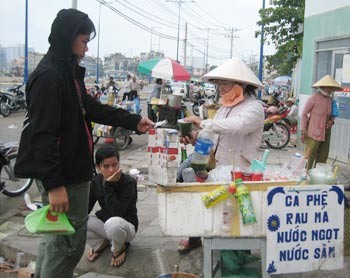 City residents couldcontract diarrhea from such roadside eateries ( Photo: Tuoi tre)
The latest case prompted officials from the city's Department of Health to visit Hong Bang Junior High School, where the latest case is thought to have contracted the disease, to ensure measures are being taken to prevent an epidemic.
An eighth grader from the school is the latest patient to test positive for the Vibrio cholera bacterium, which causes acute diarrhea, vomiting and can be fatal if left untreated.
The student's older brother, a university student from HCMC's Ward 7, District 5, was also confirmed to have the illness on April 9 at HCMC's Tropical Disease Hospital.
Health officials also held a meeting with relevant agencies in District 5 to implement cholera prevention measures as most patients said they had eaten food from roadside eateries around the school.
City hospitals April 13 reported an alarming rise in the number of patients being diagnosed with severe diarrhea. The Children Hospital II said that last week 140 young children had been admitted to the facility suffering diarrhea, and that this week the number was 80. Both figures are much higher than average.
Dr. Nguyen Tran Chinh, director of HCMC's Tropical Diseases Hospital, said his clinic had recently been receiving over 30 people a day, adding that doctors are currently treating 10 cases of acute diarrhea, some of which may be cholera. 
Related articles:
City hospital confirms toddler suffering from cholera
HCMC sees first cholera case of 2010
Third cholera case found in HCMC, officials urge prevention measures