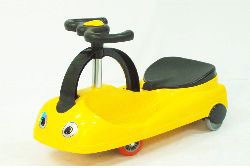 Toy bumper cars is considered to be harmful for children.

Dr. Cao Doc Lap, dean of the examination ward in Viet Duc Hospital, gave a warning concerning the increasing number of cases in which children aged 3-5 are seriously injured from toys and admitted to the hospital. Some serious cases were also recorded in other hospitals.


According to Mr. Lap, the children sometimes got broken arms or legs or even trauma to their heads after a fall from a toy bumper car.
The same alert was issued by the Central Pediatric Hospital and the Otorhinolaryngology Hospital. The two hospitals recorded that many children had coins, glass-beads or glass-marbles stuck in their noses or throats.
A lot of toys which are considered harmful to children are now being sold on the market. The tiny toys are considered to be the most harmful, including glass-beads, glass-marbles and building bricks made of plastic.