The Ministry of Health yesterday sent its dispatch to its departments in cities and provinces in the northern region where were struck by the storm to order implementation of disease prevention task.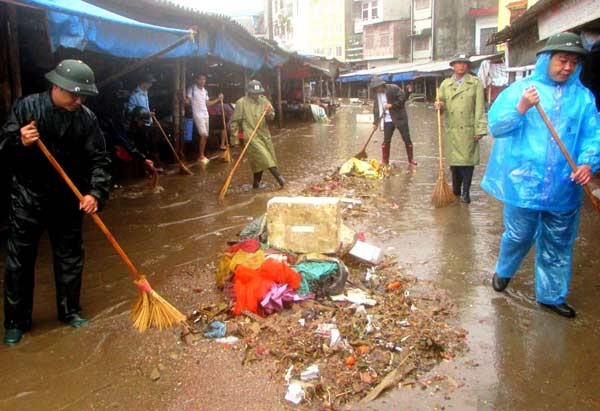 People and health medical must disinfect and clean environment after storm to prevent diseases (Photo: SGGP)
Local medical clinics must disinfect environment and keep close eye on food safety and hygiene in storm-hit localities as well as prevent diseases such as dengue fever, diarrhea and pink eye which are likely to occur after storm.
The province's healthcare education center should spread information of keeping personal hygiene, eating and drinking boiled food and disinfecting water source to curb diseases.
Medical workers in these northern provinces must be ready to provide treatment to those in the storm-hit areas, landslide and flash flood. Mobile emergency teams are ready to go to isolated districts for providing medical help. Central medical facilities must have enough medication and equipment to help other counterparts when needed.
In its dispatch, the Ministry of Health pointed out that the storm has caused devastating property damage and loss of lives. To remedy the consequences of the storm, medical facilities in the mountainous districts should plan of evacuating medical institutes to safer places.