The health sector plans to improve its services at the grassroots level and to introduce greater self-determination in a bid to raise standards, a two-day workshop in Ha Noi heard on August 27.
"Selecting priorities in making health policy" was organized by the Institute of Health Strategy and Policy and the Ministry of Health (MoH).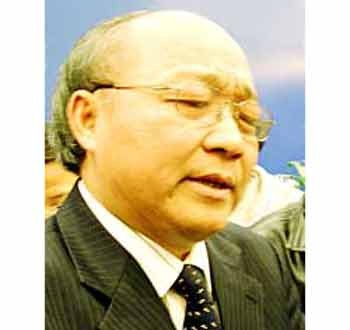 Health Minister Nguyen Quoc Trieu
"There are many out-of-date healthcare policies that are not appropriate to the new market-driven economy. In the coming time, the health sector will focus its activities on resolving urgent issues in an effort to provide high quality healthcare services for everybody," said Health Minister Nguyen Quoc Trieu.
By opening up the market, additional competition has led to improved healthcare, said Trieu, adding that, allowing hospitals to control their own budgets the Government had improved efficiency levels.
The healthcare system in Viet Nam is divided into four levels - central, provincial, district and grassroots. Grassroots healthcare covers commune, wards and hamlets.
Grassroots level hospitals and health centers play an important role in detecting early signs of epidemics.
According to MoH statistics in 2007, Viet Nam had 11,004 communes, wards medical personnel, of which 97.7 percent worked in health clinics. Nearly 60 percent of communes and wards have doctors; more than 92 percent of communes and wards have both midwives and doctors, while more than 83 percent of hamlets had medical staff. More than 48 percent of communes, wards and townships met national health standard, the MoH said.
Priority should be given to improving healthcare services at the grassroots level, said director of the Human Resource Department of the MoH Trinh Dinh Can. Local people would have access to quality health care, which relieves the pressure on central hospitals, said Can.
Deputy Director of Thanh Hoa Health Department Nguyen Ngoc Thanh said there were still many problems at the grassroots level that needed to be resolved such as a lack of investment in infrastructure and facilities, as well as staff shortages.
Thanh Hoa has 4.5 medical personnel per commune, but nearly 50 percent of health clinics have no doctors, while 60.6 percent of health clinics have no pharmacists and 7.5 percent of hamlets have not medical staffs, said Thanh.
Thanh Hoa province also has an epidemiology centre and six commune clinics. There are also 76 rundown health centres, while another 126 do not meet national standards, said the MoH.
"The Government should increase State budget investment in the health sector, especially for epidemiology, and for district general hospitals and commune clinics," said Thanh.
According to MoH statistics, the number of medical staff increased from 26.5 per 10,000 people in 1990 to 32 per 10,000 people in 2006. However, the health sector still needs another 6,000 doctors, 1,500 pharmacists, more than 10,000 nurses and more than 7,000 medical and technical staff, the ministry said.
The population increases by roughly one million people each year, while demand for health care had doubled, officials said.
The MoH says there should be at least 40 medical staff per 10,000 people by 2015 and 50 medical staff per 10,000 by 2020.