Health Minister Nguyen Thi Kim Tien said at a meeting of the Health Partnership Group in Hanoi on October 19 that the health sector will concentrate more on reducing overcrowding of patients in big city hospitals.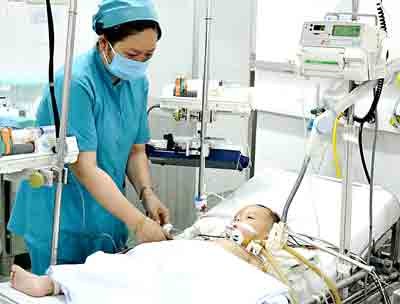 A child infected with hand-foot-mouth disease being treated at Children Hospital No.1 in Ho Chi Minh City (Photo: SGGP)
The annual activity plan meeting of HPG quarter III focused on the Direction and Priorities of the Health Sector for the new term. Participants at the meeting included relevant ministries, agencies, departments, embassies, international banks and organizations working in Vietnam.
The minister said that the health sector will focus on resolving problems but it will give priority to reducing the number of patients in big hospitals to avoid overcrowding and will also promote issuing of health insurance cards.
In addition, the sector will improve medical facilities in districts to help reduce overcrowding central hospitals by recruiting more medical workers. It will push for implementation of hi-tech medical facilities and provide healthcare services as per patients' demands.
Moreover, the sector will keep a close eye on disease prevention, food safety and hygiene, raised ethic levels amongst medical staff members and control medicine prices.
In related news, hand-foot-mouth disease (HFMD) has so far claimed over 130 lives this year, from more than 71,472 cases reported nationwide, according to the latest statistics from the Vietnam Administration of Preventive Medicine.
Although the Ministry of Health (MOH) has outlined the disease treatment diagram to hospitals, medical workers are still confused while examining and mistakes still take place, resulting in more deaths.
Medical experts fret that the disease may continue to spread until November.

It seems incomprehensible that MOH has not decided to declare HFM as an epidemic yet. They still insist that the disease is under control and the number of patients is on the decline.