Medical experts have recently warned consumers about the dangers to health posed from drinking tapioca team, also widely known as bubble milk tea. The warnings came after Chinese agencies discovered large amounts of the tea contains polymer plastic, which is largely sold in Vietnam.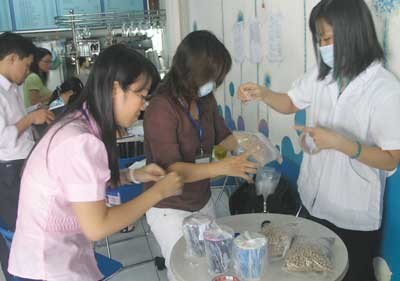 Inspectors take bags of pearl tea for tests to see if they contain polymer plastic (Photo: SGGP)
Following such news of the tea, which has different names like black pearl tea, black pearl iced tea, boba drink, boba milk, bubble milk tea, milk pearl tea, pearl iced tea and pearl milk, inspectors from Ho Chi Minh City's Department of Health August 8 made unscheduled checks at cafes.
Inspectors confiscated five bags of black pearl and took samples of three kinds of tea for tests from Tapitea (235B Nguyen Van Cu, District 1), which also does not have food hygiene certificates.
Similarly, inspectors said a shop at 215 Nguyen Van Cu in District 5 could not present receipts and originals of bags of pearl tea.
Pearls in tea, or balls of tapioca, are made from agar seaweed and tapioca, according to Tran Van Thuyet, former deputy President of the Food Industries Research Institute.
A former president of the Institute of Chemistry said man-made polymer plastic is not allowed in food because it can cause chronic diseases, including cancer.
Pearls are also seen in Kim Bien Market in District 5.
An owner of a shop told Sai Gon Giai Phong that the balls sold like hot cakes in the summer and sold 50 kilograms a week.
Likewise, it is sold in wholesale markets in Dong Xuan and Hang Buom, Hanoi.
Some shopkeepers said balls of tapioca made in Vietnam fetched VND9, 000- 11,000 with clear original and expiry dates, yet its Chinese counterpart, without any labels and lists of ingredients, is consumed largely due to its good appearance and more glutinous texture.
The origins and labels of Chinese made milk in bubble milk tea are also usually unclear.