Pharmed &Healthcare Vietnam 2008, an international expo on pharmaceuticals and healthcare, opens on Sept.10 at the HCM City International Exhibition and Convention Center (HIECC) with over 200 exhibitors from inside and outside Viet Nam.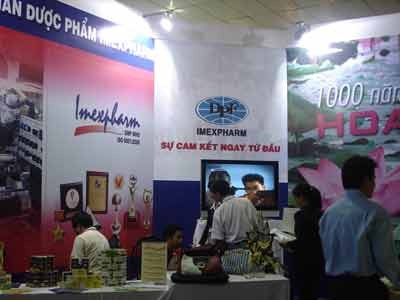 At a pharmaceutical stall(Photo:U.Phuong)
Foreign companies come from over 20 countries and territories including Australia, Canada, China, France, Hong Kong, India, Japan and the Republic of Korea .
On display at more than 300 stalls at the convention center will be pharmaceutical-chemical materials, drugs, equipment and machinery for producing drugs, packaging, equipment for labs as well as medical treatment equipment.
During the four-day event, there will also be a seminar about Viet Nam's policies on investment in producing and trading pharmaceuticals, medical equipment and healthcare.