On July 4, a health team of Children Hospital No.2 in Ho Chi Minh City and two Belgian medical experts arrived in Ba Dien Commune of Ba To District in the central province of Quang Ngai to study the bizarre and as yet unidentified skin disease plaguing the area since April 19, 2011.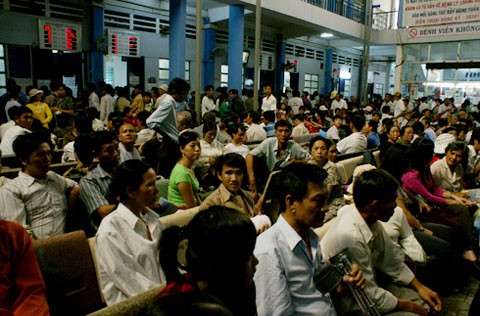 Patients waiting their turn to see doctors at the Trauma and Orthopedic Hospital in HCMC
The team conducted an on-the-spot survey in Reu Village of Ba Dien Commune, which has reported many seriously infected cases.
They took samples of rice for traces of toxic fungi and studied additional factors such as environment, water sources and living conditions.
Faced with a serious pandemic of an unknown disease that began to spread since April 2011 and has so far killed 23 local residents, authorities in Ba To District have proposed to relocate about 79 families to uncontaminated areas.
In Reu Village of Ba Dien Commune, about 344 people are being relocated to a new residential area to avoid contact with this strange disease, which suddenly erupts over palms and soles in the form of blisters and rash, causes stiffness of the limbs and weakens internal organs.
In related news, the Department of Health in Ho Chi Minh City has provided five more ultrasound scanning machines, to examine unborn children with disabilities, at Preventive Medicine Centers in Districts 3, 6, Tan Binh, Hoc Mon and Cu Chi.
This is part of a reproductive healthcare and family planning program of the department, in a bid to help preventive medicine centers detect fetus condition at pre-natal stage. 
According to the Department of Health, the rate of medical checkups in pregnant women before and after labor is still low. Many have low awareness of the importance of medical checkups during pregnancy, which results in many newborn babies having deformities.
According to the latest statistics of the department, about 32,520 pregnant women out 63,219 received medical checkups during labor.
Elsewhere in Ho Chi Minh City, the Trauma and Orthopedic Hospital July 5 opened its satellite hospital in District 5. The new satellite hospital is equipped with 100 beds and all necessary equipment for treatment of limb injuries, neck vertebrae column and disc hernia.
Tran Thanh My, director of the hospital, said the new satellite hospital will help reduce pressure on the central hospital. Currently, 20 medics, 10 nurses and two pharmacists of the Trauma and Orthopedic Hospital are working in the satellite hospital.
As per future plans, the Trauma and Orthopedic Hospital will operate more satellite hospitals in Districts Tan Phu, Binh Tan and Binh Chanh.